2003 Gransden Regionals
How we got involved
At the beginning of 2003 I realised that the Cambridge high performance fleet were not usually flown at all during the Gransden Regionals though they are regularly flown at Inter-club League competitions. At this point I talked to Kevin Maloney, our CFI, about the possibility of making a team entry with one in the Regionals this year. He was initially luke warm because he thought I was planning a solo entry, but as soon as he realised I had a team entry in mind he became most supportive.
The result of this conversation was that Paul Browne and I got together to enter FVV, the club's Pegase 90, in the 2003 Gransden Regionals. It was to be the first competition that either of us had flown. We made minor alterations to FVV's normal equipment by installing my Garmin GPS II+ and EW Model D logger together with my wiring harness. The latter connects the logger and GPS and powers them off the glider's 7 AH gel cells. Apart from this change we used the glider in standard club trim with it's usual Winter and Cambridge Mk 4 varios. We did not have a final glide computer or any electronic navigation instruments apart from the GPS.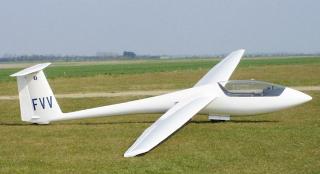 Our competition started when I got onto the airfield late Friday on afternoon and added my tent to the growing collection of caravans and tents in an area that's normally used as a trailer park. Paul was already there so we completed the documentation with FVV's vital statistics, got registered in Club Class and the logger checked in. That evening there was a cooked dinner, provided by the Regional super cooks Barry and Mo Meeks, and the club's bar was open. This marked the start of an excellent competition. We were to be lucky with the weather: eight of the possible nine tasks would be flown in Club class and seven in Sport class.
The competition
Aftermath
We ended up 19th, showing great consistency.
Paul and I enjoyed ourselves immensely while finding out about flying cross country in conditions that we'd not normally bother to rig in. As a consequence we both learnt an huge amount that will stand us in good stead for the future. The other competitors were uniformly helpful, advising us about how to manage the start, flying techniques with water ballast, what to do with an Assigned Area Task and competition finishes. Competition at this level is a lot of fun and a good way to make new friends.
If you have the chance to fly a club glider in a local competition you should grab it. You won't regret competing.
Powered aircraft