Schleicher Ka-4 Rhonlerche
This Ka-4, ZK-GBE, was the first glider I flew in. This was around 1958 when I was about 12. The flight was made at Hastings airfield in Hawkes Bay, NZ. Launch was an aero tow behind a Tiger Moth. The registered owner of ZK-GBE at 1.10.2000 was:
M M Schicker
147 St Aubyn Street
New Plymouth
NEW ZEALAND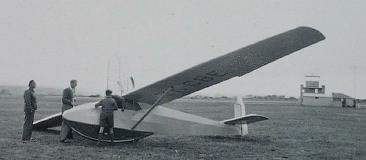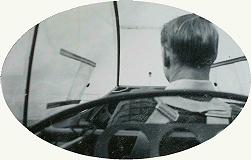 Specifications
Span 13.0 m./ 42.6 ft
Area 16.35 sq. m. / 176 sq.ft.
Aspect ratio 10.3
Airfoil Go 553
Empty weight 210 kg. / 460 lb.
Payload 200 kg. / 440 lb.
Gross weight 410 kg. / 900 lb.
Wing loading 25.08 kg. / sq. m. / 5.1 lb. / sq. ft.
Structure wood/ fabric wings and tail, steel-tube/ fabric fuselage.
Performance
L/D max. 19 79 kph / 43 kt / 49 mph
Min. sink 1.0 m/s / 3.3fps / 1.96 kt
63 kph / 34 kt / 39 mph
Other
Country of origin Germany
Designer Rudolf Kaiser
No. of seats 2
The Rhonlerche is a small, strut-braced, 2-seat trainer similar to the Scheibe Specht. It first flew in 1955. It features a steel-tube, fabric-covered fuselage, a wooden fabric-covered wing with top-surface spoilers, a fixed wheel and nose skid, and tandem seating.
Schleicher ASK-13
The ASK-13 was the next glider I saw from close up, but this time I had the opportunity to handle the controls. This occurred some 30 years later, in the mid 1980s, when I had three or four flights on two group flying evenings organised by John Williams and Frank Prime. These were at the Cambridge Gliding Club while it was still operating from Duxford.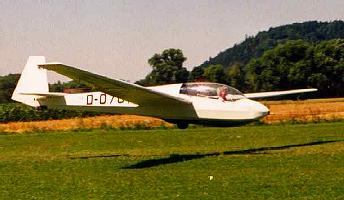 Specifications
Span 16.0 m./ 52.5 ft
Area 17.50 sq. m. / 188.4 sq.ft.
Aspect ratio 14.6
Airfoil Go 535/ 549
Empty weight 290 kg. / 639 lb.
Payload 190 kg. / 418 lb.
Gross weight 480 kg. / 1,057 lb.
Wing loading 27.43 kg. / sq. m. / 5.6 lb. / sq. ft.
Structure fabric covered steel tube fuselage with wood stringers and fibreglass nose, wood/ fabric wings and tail.
Performance
L/D max. 27 90 kph / 49 kt / 56 mph
Min. sink 0.81 m/s / 2.65 fps / 1.57 kt
72 kph / 39 kt / 45 mph
Other
Country of origin Germany
Designer Rudolf Kaiser
No. of seats 2
No. built over 600
The ASK-13 two-place tandem trainer was a development of the earlier Ka-7. The performance improvement was marginal, but the mid-wing design and improved canopy made for much better pilot visibility. The landing wheel is fixed and sprung with rubber cones, and the aircraft is fitted with airbrakes. In later models, a nosewheel was substituted for the skid. After Schleicher ceased production, the sailplane was license-built by Jubi GmbH of Oerlinghausen, Germany.