Omarama, New Zealand
During a visit to New Zealand in December, 2003 I was lucky enough to visit Omarama during a period of lovely weather. I'd never been into mountains in a glider apart from a flight in October, 2001 from Boulder, CO in a Grob 103C, so I arranged for an introductory flight in the Alpine soaring DG-1000 with Hugh Turner.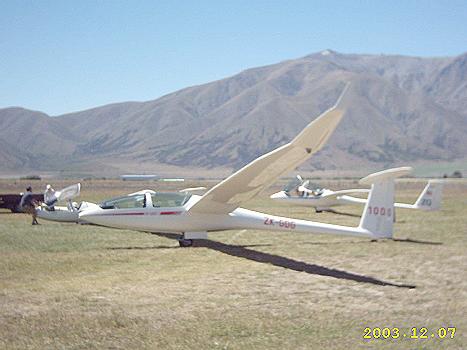 DG-1000
I treated the flight as a lesson rather than a photo-opportunity so I didn't take a camera with me, but my friend Chris Murphy took some departure shots: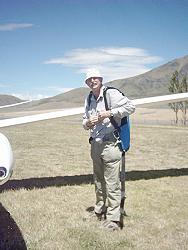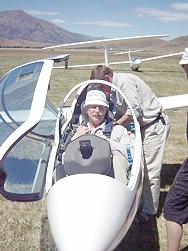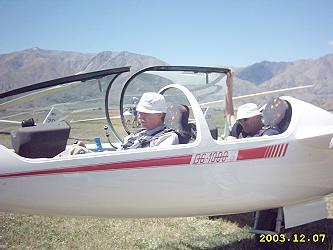 Pre-flight checks.
We aero-towed onto the hill at the north side of the Omarama valley, releasing in front of a ridge. From there we climbed up the ridge to the hill-top, outclimbing an ASH-25 in the process, before getting as high as possible above the top of the hill. Then we moved out over the flats in the mid valley in an attempt to get into light wave there by riding the rotor up into the wave. When this didn't work we changed plans and followed ridges over to Lake Hawea before following the ridge on the south-east side of the Dingle valley almost to Mt. Huxley. Here we turned back, flying back down the same ridge before cutting through a valley leading back into southern Mackensie Basin and so back to Omarama. We were airborne for three hours and covered an estimated 200 km.
Ready to roll. Our initial climb after release was up the centre spur, directly over my head, after release about half way up the hill at 2500 agl.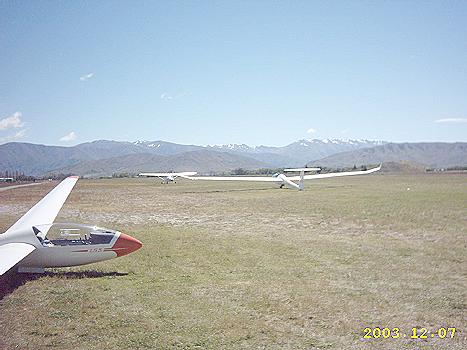 Take-off behind a Cessna 182. We towed round behind the foreground spur on the right before crossing it to come back parallel to the runway along the face of the hill that forms the background of the previous photo.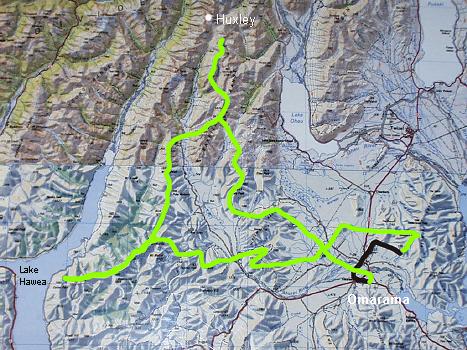 Where we went. The black trace shows the tow while the green trace shows where we went after releasing.