The War Years
by David Gregorie
On September 3, 1939, we clustered in the playground, apprehensive but curious. What would happen? Most of us had fathers who had served overseas in the Great War, as the First World War was still called. We all attended Anzac Day services regularly with our fathers and mothers.
We had seen the long list of names on the War Memorial of men from Pahiatua who had been killed at Gallipoli, Passchendaele, the Somme. We knew families who had lost fathers, uncles, sons, brothers…
But we were excited all the same. We would win wouldn't we? We did last time.
We all felt very proud towards the end of the year, when the New Zealand cruiser Achilles and two British light cruisers Exeter and Ajax defeated the German pocket battleship Admiral Graf Spee off Montevideo. Everyone said the war would be over in six months.
In the summer of 1940 I was nine years old, soon to be 10, and in Standard 3 — Mrs Beales' class. We all loved Mrs Beales and we believed that she loved us. Genuine affection begets affection in return.
Mrs Beales was dedicated and hard working but, unfortunately, she had a very large class — fluctuating around 50 as children came and went.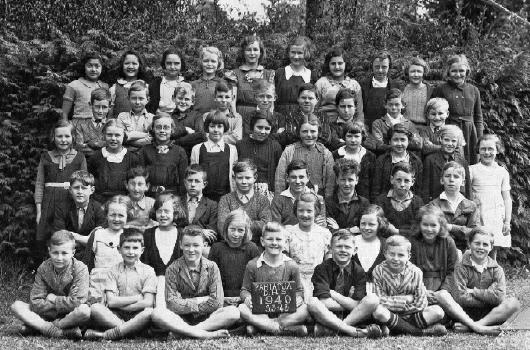 Std 3&4 1940
Children mentioned in story, counting rows from the front, children from left unless otherwise stated
Front row: Lewis Carroll, David Gregorie, x, Bob Macrae,....
Row 2: Margaret Swanney, Vanessa Murch, x, x, Nerida Murch, x .....
Row 3: none
Row 4: ......Ngara Mackley, 1st on RIGHT, Valerie Phillips, 2nd right.
Row 5: x, Donald Adams..... Graham McCardle, 1st right.
Back Row: Florence & Elsie Wong Poy......June Anderson, 3rd right.
It was a mixed group of Standards 3 & 4, with half a dozen older boys and girls who had not passed their Proficiency Examination and could not advance any further. Nor could they leave school until they turned 14. They were resentful at having to be in the same class as much younger children and they could be surly or disruptive at times. Goodness knows what they made of the "Milly-Molly-Mandy" stories that Mrs Beales read to us sometimes.
Several children still came to school on horseback, leaving their ponies in the glebe — the small paddock between our house and the school buildings that later became our football field.
When Ruawhata School was closed, the children were brought into our school in what was euphemistically called a school bus. It was a 3-tonne Bedford lorry with a wooden cabin, seating 20-or so children, built on the tray at the back. This had horizontal iron bars in the windows instead of glass, with striped canvas blinds that could be rolled down to keep out the rain. It looked like a prison van, but we called it the "butter box". It was driven by Scotty Robson.
Mrs Beales was too busy to give us much individual attention and I was a lazy student. My school work, which had made no progress under Miss McCardle and regressed under Miss Houston, sank to rock bottom. Our reports were graded — Excellent, Very Good, Good, Very Fair, Fair, Weak, Inferior. I got Fair for Arithmetic in Standard 3 — Inferior in Standard 4.
We had another set of twins in the class — Elsie and Florence Wong Poy. For the first time we were conscious of race or nationality. There were a number of Danish families living in the district — Amundsens, Hansens, Jensens, Svensens, Olsens and others — but we accepted them as being no different from the rest of us.
There were two Maori families in Pahiatua — Mr Tataurangi was a respected tradesman; so was Mr Randal. But the Chinese were different. Foreign. They were generally believed to be dirty despite the fact that the two girls were quite obviously cleaner and better groomed than half the children in the class. But people's strongly held beliefs are seldom influenced by facts.
A little English girl joined our class — Valerie Phillips, a refugee from wartime London, came to stay with cousins in Pahiatua. Her English accent sounded strange to our New Zealand ears.
Electricity came to the Forest Nursery that summer. Once again, as at Gorge End, I was to watch the slow march of the power poles up the drive to the house.
We now had an electric light and a "hot point" in each room. Light bulbs were chosen with an eye to economy — 40W bulbs were deemed sufficient for the bedrooms, 60W for the dining room, 100W for the kitchen. The sitting room had a smart globe mounted in the middle of the room with a 120W bulb concealed inside.
We had a green and cream Moffat stove, an electric hot water cylinder, with hot water in the kitchen and a proper hand basin in the bathroom. Mum had an electric iron, banishing forever the flat-irons she had once heated on the coal range. We had a single bar electric heater for the dining room and an "immersion heater", a plug-in electric element that could be put into a jug of water.
We did not have a refrigerator, a vacuum cleaner, a washing machine or a radio. These were luxuries we could not afford. Mum still washed clothes in the traditional way by boiling the linen in the copper and washing everything else by hand in the wooden tubs.
In June, 1940, the German raider Orion laid mines in the approaches to Auckland. The 13 000 tonne Canadian liner Niagara struck one and sank in 130m of water, taking with her more than eight tonnes of gold bullion.
In August, the raider Komet sank the little coastal steamer Holmwood as it chugged between the Chatham Islands and Lyttelton. Several school children on board were taken prisoner.
A short while later the Komet and the Orion sank the liner Rangitane as it steamed up the Hauraki Gulf out of Auckland, bound for Panama and England. The children, locked below the Komet's decks, heard the blare of the warning hooter, the shudder and roar of the guns and knew that another ship was being sent to the bottom. Years later, one of the girls was to give me an eye-witness account.
The two raiders sank at least nine Allied ships in New Zealand and Australian waters. The Germans quickly accumulated more prisoners than they could feed or accommodate.
They put their civilian captives ashore on Emira Island in the Bismark Archipelago, north of Papua-New Guinea, but took all men of military age with them back to Germany. The castaways on Emira were rescued by HMAS Australia and brought back to New Zealand.
After Dunkirk and the fall of France, England was on her own against a ruthless enemy. The Empire was there too, of course, fighting alongside the Mother country. We were proud of being British. We despised the French because they had surrendered but we admired the Poles for fighting on, even though their country had been overrun by the Germans and the Russians.
We knew that hundreds of New Zealand, Australian, Canadian and Polish airmen were helping to defend London. There was even an American Eagle Squadron. We listened eagerly to tales of heroism from the London blitz; we dreamed of flying Spitfires or Hurricanes.
We knew our soldiers were fighting in the deserts of North Africa and we followed the progress of the battle on a large map on our dining room wall — marking the latest reported positions of Allied or enemy forces with little Union Jacks or swastika flags. General Freyberg [1] was our hero.
Then came the casualties — people we knew. Stocker Boyd from next door was killed in North Africa; John Whitcombe from Kaitawa killed when his bomber blew up on take-off in England.
We had complete faith in the British Empire. We knew that the King was a wise and far-seeing man who had the welfare of all his peoples at heart. We thought the queen was wonderful. Everyone loved the "little princesses" — Elizabeth and Margaret Rose.
With Mr Churchill at the helm, Britain could not be defeated. We would win in the end.
But for the most part, the real war did not impact very heavily on our lives. It was there in the background. We argued about how to pronounce Nazi — was it nazzie, as most people said, or NARzi, as some maintained, or even nayz-eye, as Grandad claimed? We didn't really know, but each insisted that he or she was right.
We had little garden plots, each plot shared between two of us, between the edge of the football field and the Forest Nursery boundary. We grew leeks, onions, carrots, radishes and mignonette — the latter probably because it was easy to grow. We were "gardening for victory", we were told, and we believed that this would somehow contribute to the war effort.
All the boys played marbles. We carried our swag of marbles around in bulging marble bags, sewn up from gaily-coloured material and closed with draw strings. Made by our mothers, of course.
Our most prized marbles were the clear glass globes with swirling coloured patterns in them. These we called our "taws" and imagined they possessed almost mystic powers of accuracy. Some boys swore by the potency of their "bottlies", which they had salvaged from old ginger beer bottles. We despised the cheap, earthenware "stinkies" that shattered when hit by a good taw — no one would play for them.
We played for "keeps" and there was a good deal of bullying by the older boys, who often won marbles by simply declaring that they had done so. A gun player never bought marbles — with one good taw he could win a bagful.
The "marble season" began, mysteriously, some time in the summer term and ended, equally mysteriously, the day before Smugglers' Day, when anyone unwary enough to bring his marbles to school could have them stolen with impunity. Hence the expression "lost his marbles".
We never figured out quite who decided when the marble season began or ended, but I thought it must be the Chief Marble Player, probably Stewart Swanney. It was the first (and most profound) sociological observation I ever made.
Children can hold some weirdly irrational beliefs. We believed that if you cut the web of your hand between the thumb and the fingers you would surely get lockjaw. Death was inevitable — there was no escape.
We knew that the bag of white paste in the middle of some golf balls was either the most deadly poison known to mankind — the contents of one golf ball dropped in the town water supply would be fatal for the whole population (thank goodness we had our own rain water tanks!) — or else it was an explosive of almost unimaginable power.
I mean, what else would make the ball travel such a terrific distance when all you'd done was hit it with a golf club? Stands to reason, dunnit? Both points of view were argued heatedly and with conviction and it was diplomatic to concede that both might be right.
We often cut the web of our hands — nobody got lockjaw. We dissected several golf balls, to gaze in awe at the little bag of white paste, even cut it open and tentatively tasted it. No one died. There were no explosions. But we still believed. As I said above, deeply held beliefs are seldom influenced by facts. And this goes for adults too.
We believed that Catholic boys were anatomically different from ourselves. Glancing along the line when we were having a communal pee, we noticed that they had foreskins whereas we did not and took the difference to be genetic rather than man-made. We called them "measly cocks."
Don Adams, Bob Macrae, Lewis Carroll and I were friends, the alliances between us sometimes shifting and fickle. Sledges and trolleys became a major preoccupation. We made short sledges out of scrap timber, greased their runners thoroughly with a "scientifically" concocted mixture of mutton-fat and used engine oil and slid dangerously down the grassy slopes of Tylee's Hill, or at the back of Scotty Robson's.
We made trolleys out of old apple boxes, scrap timber and pram wheels and hurtled down Wakeman Street. Skinned knees and bruises were borne nonchalantly as evidence of manliness.
Sometimes the Helliwell Gang stole our sledges and hid them. We found them and stole theirs in retaliation.
Bob Gill set fire to the Richards' old house in Mangaramarama, just over the hill behind the Forest Nursery. I watched in awe as he stood stoically in the corridor outside our classroom while the Headmaster gave him twelve cuts with the strap on his hands.
Dad bought a car, a 1932 Austin 7 Ruby Two-door Saloon. It was no larger than Uncle Eric's open tourer but it had a roof and wind-up windows that would keep the rain out. It was painted dark blue, with a black roof and mudguards. Very smart, I thought. The seat cushions had inflatable rubber bladders in them instead of springs.
Church played a very important part in our lives. We went to Morning Prayer most Sundays and occasionally to Evensong. I went to Sunday School every Sunday. Without fail.
I learned:

There's a friend for little chool-dren
Above the bright blue sky…

and

Hear the pennies dropping, 
Count them as they fall.
Every one for Jesus —
He shall have them all.

and

There is a green hill far away
Without a city wall…

Odd, this — there was a green hill just over our boundary fence without a city wall. Come to that, I'd never seen a green hill with a city wall.
I was very impressed by the stained glass window above the altar, showing Jesus with a shepherd's crook in His hand. On each side stood an apostle with a very solid-looking halo, gazing at Him with adoration. The window glowed like a miracle with the morning sun behind it.
The two years I spent in Mrs Beales' class — 1940-41 — are all one to me and I cannot remember much about them. Our life was all outside.
Despite the petrol rationing, our little car gave us mobility. We visited the Andersons frequently and the Millers. Ernest Miller had been a friend of Dad's in the RAF and they remained close friends afterwards. I liked Mrs Miller (Aunty Harlah to Ann and me) and their four children — John, Hillary, Norah and Harry. I was very impressed when Mr Miller's father inherited his title and I had to call him Sir Henry. A real baronet!
We visited the Whitcombes and the John Nelsons at Kaitawa, the Frank Nelsons at Pori and the Tylees at Makuri, besides making regular visits to Gorge End. We went on picnics to the Mangahao River. We picked blackberries and mushrooms. We gathered a fungus called ergot from infected grass heads, sorted and packed it under the supervision of the Red Cross and sent it off to Wellington where it was processed into a blood clotting agent to help the war wounded.
We went to Napier for our holidays, staying at a motor camp and sleeping in converted tram-cars that had been salvaged after the 1931 Napier earthquake. We visited Great Gran Dinwiddie and listened to her tales of the Maori Wars — how she had fled to Napier from Arapawanui when Te Kooti was attacking European farms in the district.
I used to love the long journey to Napier. The names of the towns we went through were like a litany — Dannevirke, Norsewood, Waipukurau, Waipawa, Hastings, Clive. There was a moment I always watched for — as we got close to Hawkes Bay, the familiar white porcelain insulators on the power poles gave way to blue glass ones and I knew we were nearly there — and then, at last, the sea!
One dreadful morning at the motor camp Ann toddled across in front of my swing while I was at full stretch. The wooden seat of the swing caught her in the face and knocked her down. The deep cut across the fleshy part of her nose looked serious and Mum and Dad rushed her to a chemist to see if it needed stitching. The chemist was reassuring and said that because Ann was so young a stitch would not be necessary. The cut would heal in time.
They should have gone to a doctor. A couple of stitches, though painful, would have saved Ann some embarrassment in her teenage years.
We thought Napier was a wonderful place. Dad was born there, so it was his home town, but for Mum and Ann and me it had a glamour that no other place could match. There was swimming in the sea, the port with all the overseas ships and the tremendous view from the top of Bluff Hill — all the way from Cape Kidnappers in the south to the Mahia Peninsula in the north east. And I loved the town clock with its "big ben" chime every quarter hour.
When the lights came on again after the war, there were coloured lights once more on the Norfolk Island pines along the Marine Parade and the Parker Fountain once again played its silent melody with all the colours of the rainbow. It was a magical display that never palled.
But in December, 1941, the Japanese invaded Malaya and then, a few hours later, attacked the American naval base at Pearl Harbor.
The British battle cruisers, HMS Prince of Wales and HMS Repulse, were attacked and sunk by Japanese aircraft. The British naval base of Singapore, which we all knew to be impregnable, surrendered to the Japanese after only token resistance. The Japanese swept into the Dutch East Indies (Indonesia) and invaded Papua-New Guinea. The Philippines fell, after a heroic American rear guard action. Darwin was bombed. Japanese submarines launched a torpedo attack inside Sydney Harbour. Japanese reconnaissance aircraft flew over Auckland and Wellington.
We were incredulous — and very frightened. The war was suddenly much closer to home.
Uncle Eric, who had joined the army the year before, was posted to Fiji. The Home Guard, which had previously drilled in a half-hearted way rather like Dad's Army in the TV series, were armed with rifles and Bren guns and took their training seriously. Dad was sergeant of a signals platoon and practised hard at his Morse code and semaphore. We lads were enrolled in the Emergency Precaution Scheme and given white arm bands with EPS on them. Our job was to carry messages between the Home Guard, Police or Red Cross in the event of an attack knocking out other means of communication.
Rows of slit trenches appeared behind the school tennis courts and we had frequent air raid drills. The air raid siren would go off at unexpected times during the day and we would put down our pencils, line up by the door and then march out to the trenches, where we would crouch with our ears covered to protect us from blast, wondering if this was the real thing.
Every Monday morning, the children gathered round the flag-pole while the New Zealand Ensign was raised and we all chanted:

I love God and my Country,
I honour the King,
I salute the Flag,
And will always obey the laws of the land.

Then the older children said:

Our Flag stands for Truth, Justice, Freedom and Democracy,
In which we are united through the person of our King
With all the other peoples of the British Commonwealth and Empire.

All our playground games were of war. We built forts and had wars of our own. We had table games based on war themes — "Sink the Bismark", "Hunt the U-boat", "Crush Adolf"…
It was all a game — but a very serious game — to us.
The Russians were now on our side. They had treacherously sided with Hitler when he invaded Poland in 1939 and then attacked Finland. We had admired the gallant Finns for holding the Russians off, using antiquated Gloster Gladiator fighters given them by Britain. But in June, 1941, Hitler had inexplicably turned on his former ally and stormed into the Soviet Union.
In December, in the wake of the Japanese attack on Pearl Harbor, Hitler declared war on the United States. Another map and another set of flags joined our North African map on the dining room wall.
Grandad often came to stay with us for a week or two. He would sit on our front porch in the sun contentedly making camouflage nets as his contribution to the war effort. These were sent away to North Africa to put over gun emplacements and command posts to conceal them from enemy observation aircraft. He held the New Zealand record briefly for the number of nets made by a civilian volunteer, but his score was topped by a much younger man in Dunedin — not bad for a man in his 80s, all the same. He had become very fond of Mum since his retirement and admired her greatly for "what she has made of David," as he put it — meaning Dad, of course.
Dad had bought the old Austin 12 when Grandad no longer felt able to drive. The car had been repainted British Racing Green with black trim — very smart, I thought. Sometimes all five of us would go for a riverside picnic, our favourite spot being just above the Mangahao River bridge, where there was a deep pool for the swimmers and warm shallows for the non-swimmers.
Grandad was very critical of me because I was so slow to learn to swim. When he was at school, he told me, the Master had lined all the boys up by the river side and told them to swim across.
"I couldn't swim," Grandad said, "but I remembered I was British and I jumped in and swam to the other side."
He was so disgusted that I couldn't do the same that he set off to walk the five miles home. We picked him up after he'd gone about a mile, but he wouldn't talk for the rest of the journey.
Mum and Dad were embarrassed at my failure to learn to swim as quickly as Grandad would have liked and asked the new Vicar, Mr Edwards, to take me for some lessons in the town pool. He taught me how to breathe properly while swimming freestyle and it wasn't long before I was able to swim 100 yards.
My teacher in 1942 was Mr Giddings. Ngaio Albert Giddings, Nag for short. He was the first male teacher I'd had. I liked Mr Giddings, though he was very strict. He strove to cure some of the slack ways we had developed under our previous teachers.
Tables became important. Mr Giddings would walk up and down the aisles between the rows of desks, a short piece of bamboo in his hand.
"Four eights?" he would ask, fixing me with a steely gaze. "Thirty six," I might reply, really believing it was. "Knuckles!" Bang! It didn't work. Years later, I still wasn't sure.
Somehow, I learned to do multiplication and division of pounds, shillings and pence, but long division was a nightmare, fractions and decimals were incomprehensible and square root was clearly impossible. I still can't do that without a calculator. But then, neither can anyone else.
My written work was no better. Ten or so lines of blotchy, misspelled, ill-written prose, ground out over half an hour or more, was my usual effort. My parents despaired.
However, we did all sorts of other interesting things. Nature study was fascinating. We put test tubes over the leaves of living plants to study transpiration, we put white narcissus flowers in bottles of red or blue ink and watched the colour appear in the petals, we studied fossils found in a road cutting at Konini, we watched tadpoles grow into frogs, we found that flames needed air in order to burn, we studied magnetism.
We sang. Mr Giddings had a light tenor voice and he did not mind singing in front of a bunch of giggly, nudging children. We learned all three verses of God Save the King, all the verses of God Defend New Zealand, and the American national anthem. We even learned the Russian national anthem (the Czarist anthem, not the Communist one). We learned the Canadian boating song and "Aue hine ra", and lots more. I enjoyed it all tremendously.
Our Headmaster, David Pryor, took us for Verse Speaking. We stood as a group in the corridor, for some reason, while Mr Pryor conducted us like a choir:

I hear ay sudden cry of pain,
But I cannot tell from whear.
Oh, now I hear thee cry ay-gain,
It is ay rabbit in ay sneer.

Mr Pryor insisted that the indefinite article be pronounced "ay" and the definite article as "thee" — not as in everyday speech. We thought he was mad. So did our parents.
Bob Macrae and I discovered books. The boy who had been a reluctant reader in the infants became an addict. Someone had given me a newish Chums Annual and two old Boys' Own Annuals, dating from the 1920s.
The Chums was filled with great swashbuckling tales of the Spanish Main, adventure stories set in Africa, detective stories and racing-car stories. The Boys' Own ran mainly to ridiculous English school stories with sporting heroes so pure they were unbelievable, cane-wielding prefects, sneaks and fags. And there were thrillers set in Latin America in which the "clean limbed" British hero always won out against unscrupulous Germans, unreliable Frenchmen, greasy and untrustworthy Italians, dirty and treacherous dagos (Latin Americans) — all the racial stereotypes a boy needs.
I never did discover what "clean limbed" means — perhaps the Brits wash their feet more often than we do.
We read E S Ellis and Fennimore Cooper — books about the American frontier, settlers and Redskins, trappers and deer hunters, pioneer farmers at the edge of the settled lands. In these stories the Native Americans were treated with respect — the enemy, certainly, but not people to be looked down upon.
Aunt Barbara gave me some fascinating books for Christmas and birthday presents — Living Things for Lively Youngsters, a book on nature study topics with articles, line drawings and diagrams, and experiments similar to those we did with Mr Giddings. Moving Things for Lively Youngsters and More Moving Things for Lively Youngsters were books on mechanical and electrical topics — how things work, in short — with lots of ideas for working models.
They encouraged Bob and me to build our own models — which sometimes worked. I found the books equally useful thirty years later when I was teaching the same age group myself.
The Governor General Sir Cyril Newall paid us a visit that year. We were all marched down to the Drill Hall in Wakeman Street and stood in long lines while their excellencies walked by inspecting us. I was standing next to Garth Hudson, who was wearing a badge with a picture of General Montgomery, commander-in-chief of the Commonwealth forces in North Africa.
Lady Newall asked, "Who is that funny man?"
Garth just giggled and said nothing.
Lady Newall took her handbag from under her arm, opened it and took out a lorgnette, closed the handbag and put it back under her arm. She flipped open the lorgnette and peered at the badge.
By this time Garth was quite helpless. He just stood there, almost crying with embarrassment and not saying a word.
"Why, it's Monty," said Lady Newall. "I lunched with Monty in Cairo!"
Garth curled up, still giggling, still saying nothing.
To cover the confusion, Sir Cyril pointed to the badge on my lapel.
"What's that badge, little man?" he asked.
"It's the Junior Red Cross," I replied scornfully, thinking this was obvious.
"Oh ho," said Sir Cyril, "and what would you do if I fainted?"
"I'd chuck a bucket of water over you!" I said.
The Headmaster stood there, a fixed smile on his face, retribution in his eye.
When my mother heard of my dreadful faux pas, she pretended to be cross. She wouldn't have minded, I heard her tell one of her friends, if only I'd said "throw" instead of "chuck".
Those were the worst years of the war. In 1942 and 1943 the enemy seemed to be winning everywhere. The Japanese swarmed over the western Pacific and struck deep into China. They conquered Burma (Myanmar) and threatened India.
The Germans laid siege to Moscow, Leningrad (St Petersburg) and Stalingrad (Volgograd). But the Russians held out grimly, like the British after Dunkirk. Their "winter offensives" became famous. Highly mobile infantry units fought on skis, their warm winter uniforms camouflaged by all-enveloping white smocks. Their distinctive fur hats became their trade-mark. They treated the cold with contempt, often lying for hours in the snow waiting for the moment to attack.
We added "Uncle Joe" Stalin, Marshal Voroshilov, Marshal Timoshenko and others to our pantheon of heroes, already comprising Winston Churchill, General Montgomery, General Freyberg, President Roosevelt and General MacArthur.
New Zealand became almost denuded of men. All able-bodied men under the age of 40 not deemed to be in an essential occupation were conscripted into the armed forces. Thousands of women joined the armed forces too — as nurses, transport drivers, clerks and, most glamorously, as ferry pilots, flying Spitfires from the factories where they were built to the front line airfields.
Thousands of New Zealand women joined the Land Army, taking the places of the absent men on the farms and market gardens of the nation. Convoys of merchant ships, each escorted by a screen of small naval vessels, left New Zealand regularly with vital cargoes of food for Britain.
Rationing became a reality. We could not buy clothing, or meat, or bacon, or butter, or cheese, or tea, or sugar, or petrol without "coupons" — little pieces of paper about the size of a postage stamp which entitled us to a given amount per person per week. We augmented our butter ration by developing a liking for "dripping", the tasty mixture of fat and jellied meat juices from the bottom of the roasting pan — delicious on toast.
Some car owners attempted to get round the petrol shortage by mounting gas producers on the running-board of their cars, just behind the left hand front mudguard. These were fueled with coke from the local gas works and made producer gas, a mixture of carbon monoxide and nitrogen, which would burn fairly well in the big side-valve engines in American cars.
The Home Guard held regular manoeuvres in the hills around the town. Dad had a Morse key at home and practised assiduously. The other men practised their marksmanship at the firing range, dug tank traps and mined bridges. Some of them muttered something about "shooting the wife and kids, if the Japs come, and taking to the bush." I asked Dad why on earth they would want to do this, but he said I was too young to understand.
The EPS practised too. One weekend we had a full scale "emergency", with fire engines, ambulances and the Home Guard acting as Military Police. I spent most of the afternoon in an ambulance labelled "Fractured pelvis — suspected internal injuries." It got boring after a while.
Spy fever was at its height. Karl Haas was an Austrian Jewish refugee who had come to New Zealand in 1936 to escape Nazi persecution and bought a farm on the hill above Mangamutu. Mr Haas had volunteered for the Home Guard at the outbreak of the war but was turned down, despite being a naturalised British subject.
We were sure he was a spy. We knew "for a fact" that he was signalling to enemy submarines from his house at night. How he could do this so far from the sea, was a question we never asked.
One night we "rocked" his house. Lewis Carroll and I filled our school bags with ballast from the railway lines, crept up the hill behind his house and threw the stones in a rapid fusillade onto his corrugated iron roof making a considerable din. Mr Haas shot out of his back door and ran towards us yelling angrily. In German, of course. Or so we believed. We fled, terrified but exultant. Our parents never heard about that incident.
Later, Mum became quite friendly with Karl and Amelia Haas and I was even invited to stay with them, to my intense embarrassment. Mr Haas was quite a nice man; very shy but with twinkly eyes and a friendly manner.
We all had bicycles by then and roamed the countryside, though seldom venturing more than half a day's ride from town. Sometimes we went down to the prisoner of war camp in the grounds of the Pahiatua Race Course, to stare at the Italian prisoners behind the barbed wire.
Dad had bought me the bicycle so that I could help Mum with the shopping. It was a BSA (Bloody Sore Arse) with 24" wheels. It cost £5/10/-, second hand, a week's wage for a tradesman.
Back in the '30s, shops had offered a level of service they have not equalled since — housewives telephoned the shop and read out their order to the friendly shop assistant. Later that day a boy on a delivery bicycle, which had a huge basket on the front with a very small front wheel underneath it, would deliver the parcels — bread, flour, sugar, etc. — and leave them in the apple box under our mail box at the bottom of our drive. We had a free delivery once a week.
Mail was delivered twice a day and we didn't even have to post our letters. We would leave them in our own mail box and swing a small red metal signal flag into an upright position to let the "postie" know they were there.
Milk was brought to our gate by Mr Wade, who drove a picturesque little "milk float" marked Wattle Dairies in flowing copperplate script. The horse-drawn vehicle had high, narrow wooden wheels like a gig, which crunched over the gravel as the horse trotted along the street. Between the wheels were two large cylindrical stainless steel containers, known as "churns", for milk and a smaller one for cream. It was topped by a canopy high enough for the driver to see underneath.
Mr Wade stood on a step, about 30cm from the ground, right at the back of the milk float and controlled his horse by long reins that lay in wrought-iron guides above the milk churns.
He had a row of dippers of various sizes — half pint, pint, quart — with which to ladle the milk into the "billy" we left in the box at our gate.
The advent of rationing made shopping more difficult. Ration coupons had to be presented in person. Mum would ring the Community Stores, or Ryan's Butchery, and give her order over the telephone. Then I would ride down to the town, watch as the coupons were cut from our ration books and bring our groceries home in the wicker basket attached to my handle bars.
I was doing more work at home now — helping Dad pick the strawberries, raspberries or tomatoes, feeding the "chooks" — but I still had a great deal of leisure time.
Don Adams and I had Daisy air guns with .177 calibre smooth-bored barrels. They fired BB shot, which we bought at Russ Merrie's Sports Store. We shot at everything that moved and a good many things that didn't.
The fort building craze was still in full swing and we set about the construction of our most ambitious project yet — a sort of bunker with earthen walls and a roof to be made of macrocarpa boughs supported on four upright poles, like the battlefield HQs we had seen in the newsreels.
We started work at the top of a grassy slope at the back of the nursery, next to Dad's new nursery bed, using an old hoe and what Don said was a "trenching tool". After working away for a few days, we decided that it was demeaning to our status as "chiefs" to do the manual work ourselves. What we needed was a slave.
The following afternoon we waylayed Graham McCardle after school, shackled his wrists with a bit of chain we'd borrowed from a derelict house at the top of Wakeman Street and escorted him up to the fort.
We gave him the trenching tool and set him to work. After a few minutes Graham complained, quite reasonably, that he couldn't work very well with his hands tied together so Don untied him and set me to guard him with my BB gun.
Graham seized his moment and bolted.
"Halt or I fire!" I shouted, raising my gun to my shoulder.
Graham was running down hill as fast as his legs would move — he couldn't have halted if he'd tried.
So I shot him in the bum.
Graham ran all the way home, yelling with pain and fright. The shot barely penetrated his skin and no serious damage was done, but the consequences for me were horrendous. I got a well-deserved hiding from Dad. We never did finish the fort.
Ann started school at the beginning of 1942, one month short of her fifth birthday. It was ironic that she should be able to start school so young when I had had to wait for nearly eight months after my fifth birthday before I was enrolled, but school rolls were falling and there was room to spare in the infant classes.
One afternoon I caught Brian Lovelock trying to persuade Ann to take her knickers off. Brian was younger than I was, but three or four centimetres taller.
He was known to be a sissy so I had no hesitation in having a go at him. I knocked him down, sat on his chest and punched him several times in the face, at the same time explaining to him why he shouldn't interfere with little girls.
Later that afternoon his mother rang Mum and complained that I was a bully for "hitting a boy who was wearing glasses." Which was nonsense — he didn't have them on. Nevertheless, I had to go round to Mrs Lovelock and apologise and she gave me a right telling off for "telling Brian where babies come from, etcetera, etcetera. His father and I will do that properly when he's old enough. We don't want it spoilt for him by little boys with grubby minds…" and so on.
For some reason or other I never did explain to Dad why I'd given Brian a black eye — perhaps I was uncertain how he would react to my imparting knowledge I was not supposed to have. Anyway, it was the only time in my life I have ever beaten anybody up.
In 1942 Masterton was hit by a major earthquake. St Matthew's Anglican Church was destroyed and the Presbyterian Church cracked open and rendered unusable. The top floor of the Post Office collapsed into the street and Wairarapa College was badly damaged. Very nearly every chimney in town fell down.
Pahiatua, some 50 kilometres away from the epicentre, got a severe shaking. Our sitting room chimney came down for the second time, this time falling between the house and the garage. And I slept through it. The Chums and Boys' Own annuals in the bookcase next to my bed fell across my body but I didn't stir. When I went to school and listened to all the exciting tales from the children who had been woken by the quake, I felt cheated.
By now we had a radio. When Uncle Eric went overseas he left his radio with us and we gathered round it every evening to listen to the BBC news. First the chimes of Big Ben, then the crackly voice from 12 000 miles away saying, "This is London calling. Here is the news…"
It was an English radio, an Ekco (for E K Cole, the makers), and it had no New Zealand stations marked on its dial, only exotic names like Daventry (BBC) and Hilversum (Radio Nederland), but it had short wave and we could listen to all sorts of overseas stations direct. Once we heard the plummy English voice of "Lord Haw Haw", from Germany, giving an utterly unbelievable account of the news. And we heard Radio Moscow giving an equally unbelievable account in a heavy Russian accent. Only the BBC told us the truth.
We tuned in to 2YA Wellington or 1YZ Napier for the news or the weather report and to 2ZA Palmerston North for entertainment. I listened avidly to the spy drama "First Light Fraser — brought to you by Garner's, the store that made Broadway boom!"
In 1943 I went up from Standard 5 to Standard 6. Forms 1 and 2 had not yet been invented. Our new teacher was either a relieving teacher or a probationary assistant, supposedly learning to teach under the supervision of the senior teachers. At all events, she was young and inexperienced. She is the only one of my teachers to whom I cannot put a face or a name.
We didn't do any useful work in arithmetic, English or spelling that I can recall, but we did some great "craft work" — mostly models in papier-mâché or plasticine. We learned about "stout Cortez" and Montezuma and Sir Francis Drake and the Spanish Armada. And we heard some enthralling tales about the Vikings.
Bob Macrae and I made a model Spanish galleon out of plasticine and floated it in the pond that Dad had made behind the house. We sank it with our BB guns. Then we made a model Viking long ship and sailed that across the pond.
This was the beginning of our model-making phase. Dad had showed me how to make a key cannon, and Bob and I made a wooden model battleship about 40cm long with a key cannon on the fore deck.
A key cannon is made from any large key with a hollow shank. You mount this on a rounded piece of wood, so that it looks like the gun turret of a warship, with the key shank sticking out like a barrel, and screw it to the foredeck of your warship.
You drill a shallow inch-wide hole in the deck under the barrel and put a small piece of candle in it. For ammunition, you need some "strike anywhere" wax matches, such as Bryant & May's Wax Vestas. You take one wax match and scrunch it up so that the body of the match is all shredded but the head is intact, then you wrap the shredded, waxy cotton around the head and stuff your "shot" into the hollow key.
You light the candle and aim the cannon. When the key gets hot enough the match head explodes and the "cannon ball", still alight, shoots out, maybe 60cm, and, with luck, sets your target on fire. This has great potential for mischief.
We made matchbox-sized model aeroplanes out of soft white wood salvaged from tea chests — SE5a, Camel, Fokker Triplane and the like — because these were what Biggles flew, or fought against, in his First World War stories. We had read most of the "Biggles" books by Captain W E Johns — in which Biggles and his chums fought against wily but sporting Huns. We took a great deal of trouble to make our little models look as realistic as possible.
We started Manual Training in our Standard 6 year — the girls learning to cook in the Cooking Room next to the Science Lab and the boys picking up the basics of carpentry from Mr Price in the Woodwork Room.
We were instructed in the use of jack planes, chisels and mallets, learned how to make dowel joints with hot glue, made a number of wooden devices of doubtful utility and learned to cope with "Freddie" Price's unpredictable temper.
It sharpens your reflexes wonderfully to glance up just in time to dodge a wooden jack plane that's been hurled at your head.
The children from the outlying sole charge and two-teacher country schools joined us for Manual Training and from time to time their teachers would visit to see how their children were doing. Miss Gregory, the sole teacher at Mangamutu School, drove a "New Beauty" Model T Ford Coupé, c.1924. It had a ridiculously short bonnet, a high rectangular cabin, rather like a hansom cab, and a short shallow boot with a "dickie" seat for occasional use. A most ungainly contraption. It was painted the colour of dried cow dung. We thought it looked like a farm outhouse on wheels and we called it "The Portable Dunny".
The Yanks arrived. Thousands of young American servicemen flooded into New Zealand, which was to be used as a staging post for the reconquest of the Pacific. We looked at them with awe, followed them around, imitated their accents, collected cap badges and other souvenirs. We thought the olive green uniforms of the US Marines were very smart.
So did the man-starved New Zealand girls, who fell for them in droves.
Don Adams and I followed a young American up Tylee's Hill one afternoon. We knew very well that the girl with him was only 14 — she'd left school only a few weeks before. We stalked them, careful to keep out of sight and making no sound except for the occasional whispered order to each other. They chose a sheltered nook on the edge of our forest and lay down. The American rolled almost on top of the girl and attempted to kiss her. There was a good deal of giggling and squealing and thrashing about.
Don and I were outraged by this insult to New Zealand womanhood. Don said, "It looks like forced rape to me." "Yeah," I agreed — neither of us knowing what we were talking about.
We stood up and shouted. The American jumped to his feet and chased after us, swearing and shaking his fist. We dashed into the forest with the American not far behind.
We held the advantage — we knew every inch of the forest and, being small, we could easily duck under the low branches that smacked the American in the face. We raced through the forest and into the school grounds and he followed us, not realising that we were leading him into a trap.
Our Headmaster was a short, dark irascible man called Mr Wilson who had eyes that could blister the skin off a rhinoceros.
The Yank vaulted over the school fence and found himself surrounded by boys playing football and face to face with Mr Wilson. He was just starting to complain about us, when the girl followed him into the school grounds and we all knew he was for it.
The American was a good foot taller than Mr Wilson, but he wilted before his contemptuous gaze. By the time Mr Wilson had finished, the American had been verbally hung, drawn and quartered. He slunk out of the school grounds, the girl going home through Scotty Robson's.
Mr Wilson turned his attention to us…
We went to the pictures a great deal in those days — every Saturday afternoon, if we could get away with it. It cost sixpence in the front stalls, ninepence in the back stalls, 1/6 in the dress circle. We only paid sixpence, but were often allowed to sit in the back stalls because very few adults wanted to share their entertainment with a horde of unruly kids.
The films we saw were usually war films or comedies, with a fair number of cowboy films. We despised cowboy films as being "kids' stuff", but we watched them all the same. We'd pick them to bits loudly, noting when the hero fired eight or ten rounds from a "six-gun" before finding, to his astonishment, that it was empty. We liked Abbott and Costello, and Laurel and Hardy and we loved Charlie Chaplin. We thought "The Great Dictator" was the funniest film we'd ever seen.
In the boring bits, such as love scenes, we livened things up with water pistols, pea shooters, shangeyes (catapults), inner-tube pistols and spring guns. These last were particularly effective. We made them ourselves from a plan in "Moving Things for Lively Youngsters". A wire bent into a pistol shape formed the butt and the barrel, and a spring filched from some other mechanical contrivance provided the propellant. The "ammo" was made from 5mm pieces of thin bamboo.
Like many of our generation, we discovered girls in the cinema. One afternoon Garth Hudson and I sat next to "Bubbles" Narby, a pretty, vivacious girl who went to the Convent School, and "Skin" Lawry, a very plain girl, of whom more anon. They were more than willing for a little furtive mutual exploration and we sat there, giggling and whispering, and glancing guiltily around from time to time, hoping that no one had recognised us.
We bought ice creams, chocolate "bombs" and chewing gum. Jaffas, besides being tasty, were good for rolling down the wooden steps under the seats, making a most satisfying noise and provoking an epidemic of giggles.
Occasionally someone would snatch an ice cream and throw it up into the dress circle…
Every so often we were slung out and we'd spend the rest of the afternoon roaming the town looking for other illicit activities.
We found a dump of old ginger beer bottles behind the Kiwi Cordials factory. Our first idea was to smash the bottles to get the "bottlies" inside so that we could use them for playing marbles. Later, we became more sophisticated. Don Adams had an old bicycle lamp that used calcium carbide and water to produce acetylene gas which burned in a small yellow flame. It was not very effective as a lamp — but we understood how it worked.
We bought some carbide from Buster Murch's, cut it into a small pieces, which we dropped into the pop bottles, and then put the bottles aside for future use. Later, we would add water, shake the marble into place against the ring-shaped rubber seal and we had a live hand grenade — deadly, if we weren't careful. It took about six seconds from the sealing of the bottle before it exploded, scattering razor-sharp shards of glass in all directions.
Children were so good in those days.
By the end of 1943 the war situation was improving rapidly.
British, American and New Zealand troops had cleared the Germans out of North Africa and were steadily slogging their way up the Italian peninsula.
The Russians began their third winter offensive — this time they kept going. Their new tanks were superior to the best the Germans had, their new missile-equipped attack planes won control of the air, and they had the numbers. The Germans were ill-clad, ill-equipped and running out of food, fuel and ammunition. They were captured in their thousands, whole armies at a time.
The Americans and Australians were holding the Japanese in the Pacific Islands and slowly pushing them back. British and Indian armies were driving the Japanese out of Burma. We added General Orde Wingate to our list of heroes.
At the start of 1944 I went into the Third Form. Life began in earnest.
Pahiatua District High School had been founded in 1910 in four buildings. The high old Primer Block, the original primary school, had already been there for some years. It housed all the Primers in one double-sized classroom, with a much smaller room next door for Standard 1.
The main block held four classrooms — Standards 2 to 6 — plus a small, cramped staff room and the Headmaster's office. A long rose-covered pergola led to the two-classroom High School Block — Form 3 in one room, Forms 4, 5 and 6 in the other. Another block beside the basketball court housed the Cooking Room and the Science Laboratory. The Woodwork Block was added later, probably in the 1920s. In the 1940s two new toilet blocks were built by the rugby field, replacing the malodorous old "dunnies" that had been half way down the drive.
The total roll in the 1930s and '40s was around 300 children.
There were big roll changes in 1944. Several of my class mates, including Don Adams, went away to boarding school — Wellington College, Wanganui Collegiate or Iona College — to be prepared for the professions or to be given a polish on their education that their parents felt Pahiatua DHS couldn't provide. Their places were taken by children from the outlying sole charge and two-teacher schools and from St Anthony's Convent School.
We were offered two courses. The Professional Course included English, Maths, French and History, all taught by Miss Junker, Science, taught by Mr Noonan, Geography, taught by Miss Christie, plus Cooking, for the girls, and Woodwork, for the boys, under the dreaded "Freddie" Price. The Commercial Course offered English, Typing, Shorthand, Book-keeping and Commercial Practice, all taught by Miss Christie. Miss Christie's room was our Home Room in Form 3.
There were, I suppose, 40-odd children in the Third Form, some of them only filling in time until they turned 14, knowing that the school leaving age would go up to 15 the following year. The more serious students in the Commercial Course were working for various certificates in shorthand, typing or book-keeping, their eyes firmly on the job market. We saw little of them.
We Professional types had vague thoughts of School Certificate, if we thought that far ahead.
We had school uniforms. The boys wore navy shorts and shirt, navy socks with red and green stripes around the tops, a red and green diagonally striped tie and a cap with red and green braid and a PDHS monogram. The girls wore a navy gym, a navy blazer with red and green piping and a school monogram on the pocket and a blue, monogrammed beret.
Most third formers did not actually wear the uniform. It was seen as a waste of money, since this was to be their last year at school.
Nothing much of any consequence that I can recall happened in Miss Christie's room, but Miss Junker's room was very different. Dorothy Elise Fritzina Junker ("Fritz", to us) was a short, stout elderly woman of around 50 who looked remarkably like Queen Victoria. She was said to be Dutch, though we doubted this at the time. She pronounced Junker as yunker, not yoonker, and woe betide anyone who thought it funny to pronounce it in the German manner.
"Bon jour, mes enfants," she would greet us every morning, when we trooped in for our French lesson. "Bong jewer, madder m'zel," we would chorus in reply, and she would roll up her eyes at the crudity of our accents.
"Comment vous portez vous?" she would ask each of us in turn and we would stammer a reply, "Je m'a porte trés bien, mademoiselle, et vous?" Later, we had to give halting accounts in French of some of our previous day's activities. Heavily censored, of course.
We learnt to our astonishment that Marcel and Denise went for a walk on their bicycles in the forest ("une promenade à bicyclette dans le forêt"). What a weird thing to do. We struggled through the stories in "Contes et Légends" — pronounced "contays ay lay-johns" by one of the girls who never could get it right. Miss Junker would roll up her eyes and repeat and repeat, but it never made any difference.
We ground our way through 19th century British history — corn laws and stuff like that.
But Shakespeare! Now he was really something. I revelled in "MacBeth" — thought it was wonderful, right up with John Buchan or Denis Wheatley. I was enchanted by "The Tempest" and disturbed by "The Merchant of Venice". But I thought Hamlet was wet. Miss Junker accused me (quite rightly) of being a procrastinator, but I couldn't begin to compete with Hamlet. He never did anything until it was too late.
Maths was both an eye-opener and a nightmare. Geometry was great — you could see it. And the theorems were nothing more than applied logic. I tackled them with the same enthusiasm I would later apply to crossword puzzles. But algebra — I could never get the hang of that. It took the New Maths of the 1960s to make algebra clear to me.
We had great fun in the science lab. We made carbon dioxide and hydrogen, precipitated various substances out of various solutions. Don't ask me what. Or why.
We watched in trepidation when Mr Noonan made some thermite — a mixture of red iron oxide and powdered aluminium with a little pile of phosphorus in the middle and a strip of magnesium for a fuse, all held in a fire-brick retort. He took this out into the playground and set it alight. It would, he assured us, burn through steel. I still don't see the point of this experiment — I think Mr Noonan was just showing off.
I added an unscheduled experiment of my own. Don Adams and I still saw a good deal of each other during the holidays and got up to all kinds of mischief. Don managed to get hold of some live rifle and shot gun ammunition — .303, .22 and 12 bore. These we dissected in the workshop under the Adams' house.
We carefully extracted the contents — dark grey smokeless powder from the .22s and the 12 bore, yellow cordite from the .303. This we used for various impromptu fireworks. One afternoon, Don put an empty 12 bore cartridge, still with its primer intact, into the vice and tapped it smartly with a hammer. The explosion blew the hammer out of his hand and left our ears ringing.
Learning nothing from this experience, I pocketed an empty .22 cartridge, also with its primer very much alive, and took it to school. I dropped it into a Bunsen burner and awaited developments. The primer went off with a loud crack and the cartridge case shot across the room and buried itself in the classroom door. I had a very painful interview with Mr Wilson.
Bob Macrae and I joined the Air Training Corps. We marched and drilled, wearing powder-blue RNZAF forage caps with brass ATC badges. These had to be kept polished, or else. We fired .303 rifles at the Home Guard rifle range, and if the recoil of these weapons bruised our thin young shoulders, we would never have admitted it.
In the evening we went to an Aircraft Recognition Course run by an officer from Ohakea Air Base. He used a projector to give us half-second glimpses of various aeroplanes — British, German, American and Japanese. We learned to tell the difference between a Spitfire and a Messerschmitt 109, a Hawker Tempest and a Focke-Wulf, a Mosquito and a Messerschmitt 110, a Republic Thunderbolt and a Mitsubishi Zero — all in half a second or less. Our lives could depend on it, he said.
We lapped it up. We became enthusiasts. We knew the speed, range, armament and bomb load of any Allied or enemy aircraft you could name. We gloated over cut-away drawings of aeroplanes. I could spell Oerlikon (Swiss 20mm cannon) before I could spell accross.
Bob and I became more ambitious with our model aeroplanes. We made gliders, flying models and scale models, painted them with "dope" and hung them in our bedrooms along with pin-up photographs of our favourite aeroplanes.
We dreamed of being Pathfinder pilots — flying unarmed Mosquito bombers deep into Germany at roof-top height and at speeds well in excess of 400 knots, dropping magnesium flares suspended from parachutes over some industrial target and then streaking for home, leaving the way clear for the heavy bombers that followed.
American aircraft appeared in our skies. The old Tiger Moths that had been made by the hundred at the de Havilland factory at Rongotai (now Wellington Airport) were replaced by American Harvard trainers. The RNZAF was equipped with American Curtis Warhawk fighters and trained for action against the Japanese.
The new confidence everyone felt in the future was good for business. Dad doubled his production and could still sell all he produced. He increased the area of the lining-out bed across the creek from the hut, doubled the size of the "top bed", up by the back boundary of the forest, and built a new packing shed hard against the school boundary. He had the drive concreted so that lorries could get up and down without getting stuck in the winter mud.
We were no longer dependent on pip fruit and tomatoes to augment our income and these were phased out.
Dad bought a small American-made walk-behind tractor, a single cylinder machine on narrow caterpillar-type tracks. It was steered with long handles at the back with two clutch levers controlling the tracks on each side. It was a pig of a thing to start and by no means easy to control. But it could plough and disc and harrow, and it could pull about half a tonne in a trailer — a big step up from wheel barrows. Dad built a trailer with a shelf across the front to sit on and another across the draw-bar on which to put his feet.
It was pretty dangerous, but at least it enabled him to bring sizable loads of trees from the lining-out beds back to the packing shed.
There was plenty of work for me to do in the planting season. Dad and I would lift the trees and pack them neatly in the trailer, then we'd ride down to the shed and start work again.
Dad paid me a shilling a thousand for counting seedling trees. It doesn't sound much but, by working diligently, I could count ten thousand trees in a day, trim their roots with a shears, dip them in frequently-stirred muddy water and stack them in bundles of a hundred in moist sphagnum moss ready for packing. Good money in those days.
The seedling trees were mostly lawsoniana, still very popular for hedges and shelter belts, radiata pines and eucalypts. They were all for the wholesale market. Ten thousand was a medium-sized order, twenty-five thousand was not unusual and 45 000 cause for rejoicing. If it was a big order, Mum joined in the counting too and the three of us would stand at the bench with cold fingers and aching shoulders, our lips moving as we counted silently to ourselves, from time to time straightening up with a sigh and adding one more little bundle of trees to the growing pile. Mum said she counted trees in her sleep.
The trees went to nurseries like Duncan and Davies or Wilson's, who grew them on for re-sale the following year, or, if they were pines, they went to forestry companies for immediate planting in the open.
We were dependent on the railways for transport, since the government had restrictive laws in force preventing road carriers from accepting goods for carriage over distances exceeding 50 miles (80km) on routes served by a railway line. This was to protect the railways from competition.
Dad's opinion of the New Zealand "snailways" was incendiary. I can remember once when we had worked quite late at night, using the good old Coleman lamp hanging from a nail in the packing shed, putting together an order of several thousand trees for Gisborne.
Days later they hadn't arrived. Dad rang the Pahiatua Railway Station who, naturally, didn't have a clue. They suggested he ring Napier. Toll calls were expensive in those days and time consuming. Dad was getting cross.
When he finally got through, he was told, "Oh, yeah, we gottem here. They're in the goods yard waiting until we've got enough wagons to make up a train for Gisborne."
"What do you mean, make up a train?" Dad said. "Don't you send them straight through?"
"Aw no," the bloke said. "You can't expect us to send a train through just for one parcel. We keep the parcels here until we've got enough to make a decent load."
"But they're perishable goods," Dad said. "Has anybody watered them?"
"Not our job to go watering trees, mate," the bloke said.
"Well it bloody well should be," Dad said. "How can we be expected to send perishable goods by rail if you can't look after them?"
"Nothing I can do about it, mate," said the bloke. "You'll have to see someone higher up."
It was the first time I'd ever heard Dad swear in front of Mum. I was considerably impressed. Dad reported the other side of the conversation to us verbatim, still very angry.
He objected strongly, he said, to being called "mate" by some incompetent blithering idiot.
Dad was also expanding the retail market. A reasonable number of farmers were still planting macrocarpas; more were planting pines. Douglas fir was becoming popular. The market for hedge plants was still buoyant and there was a steady demand for ornamentals and specimen trees — silver birches, liquidambars, poplars, redwoods, sequoias, swamp cypresses and others.
He bought an Australian-made 5hp Howard Rotary Hoe, a much more reliable machine than the little tractor. The Rotary Hoe remained in use for many years. It could be used for cultivating large areas and saved a great deal of back-breaking work. It was usually driven by Bill Fulcher, Dad's first full-time employee.
June 6, 1944, was D-Day. Hundreds of thousands of US, British and Canadian troops stormed across the English Channel and landed in France. We knew now that victory was certain; it was only a matter of time. We felt confident, buoyant, full of life. We could enjoy ourselves without feeling guilty about it.
Three days later I had my 14th birthday. Mum put on a small dinner party for me, with sandwiches, savouries and cakes, and jellies set in hollowed-out grape-fruit skins and with a cherry on top. My guests were June Anderson, who was boarding with us at the time, Valerie Phillips and Bob Macrae.
The four of us ate at a card table at one end of the sitting room, with Mum and Dad sitting by the fire and smiling contentedly to themselves. After we'd finished we cleared the table and played various table games like "Sink the Bismark", Kim's game, and a paper-and-pencil game (the name escapes me) in which we each wrote brief messages down in turn according to a set formula and then read the whole paper out aloud to shrieks of mirth. Then we put the table away and tried parlour games — charades, truth or consequences, postman's knock. There was a great deal of whispering and giggling as we each went out into the dining room to kiss the partner we'd won.
Mum and Dad pretended to take no notice.
That year I went up for confirmation. I had a lot of trouble learning the Catechism which said, among other things, that our godfathers and godmothers had promised at our baptism that we would "renounce the Devil and all his works, the pomps and vanities of this wicked world and all the sinful lusts of the flesh." We spent a good deal of time speculating over what these might be. After all, we couldn't be expected to renounce them if we didn't know what they were. Nobody seemed willing to enlighten us.
At last the great day came and we knelt before the bishop to be received into the Church of England. I had expected that when the Bishop laid his hands upon my head I would be illumined with a wondrous light, or charged with a feeling of righteousness, or cleansed of all my sins. Nothing happened. I thought, perhaps, that lack of diligence on my part during preparation had invalidated the whole procedure.
With Italy out of the war, the Italian POWs who had been in the prison camp were were released and repatriated. For some months the camp was empty.
Then, in November, 1944, a group of more than 700 Polish refugee children arrived, with their teachers and guardians. Ever since the Russian invasion of Poland in 1940 these children had been shuffled around from camp to camp — first in various parts of the Soviet Union and then in Iran. No one seemed to want them.
Peter Fraser, the New Zealand Prime Minister, offered them a place in New Zealand. They could, he said, stay here until the liberation of their homeland. The old prisoner of war camp was cleaned up and refurbished and the children duly installed. The usual group of local busybodies set up committees to see that they were properly cared for.
Such a large number of children was beyond the capacity of any of our local schools, so the children's teachers set up a school of their own, recruiting New Zealand teachers to instruct the children in English.
One little girl of about Ann's age, Danuta Holownia I think her name was, came to stay with us for a while. She must have found ordinary New Zealand life very strange.
Towards the end of 1944, Valerie Phillips went home to England. I was heartbroken for at least a week — I had fancied myself in love with her.
By the summer of 1944-45, the end of the war was in sight. The armies of the Western Allies had punched through France, across the Rhine and into Germany, the German retreat from Russia had become a rout — the victorious Red Army barely able to keep up with the fleeing enemy.
American B29 bombers had begun the aerial bombardment of Japanese cities that was to culminate in the holocaust of Hiroshima.
There were nine of us in Form 4 in 1945 — all that were left after the massive drop-out at the end of the previous year. Our lives went on much as before — English, French, Maths and History with Miss Junker, Chemistry and Geography with Mr Noonan. I cannot really remember which of the Shakespearean plays we did in the Third Form and which in the Fourth, but it doesn't matter. We did them anyway.
We shared Miss Junker's room with five Fifth formers, one Upper Fifth former and one Sixth former. Four of the Fifth formers passed school certificate, the girl in the upper Fifth passed her University Entrance and the lone Sixth former also won a University Scholarship. The word "failure" was not in Miss Junker's lexicon.
Miss Junker was a much better teacher than I was prepared to believe at the time. I'm glad that I was able to see her before she died to thank her for persisting in her duty despite my total lack of co-operation. I owe her a great deal.
Gabriel David, who was in the Fifth Form in 1945, later became a popular sports journalist in Wellington. Gordon McLachlan, who had been in the Third Form with us, is a very well-known commentator on the New Zealand scene.
Don Adams, who left at the end of his Standard 6 year to go to Wellington College, is an oral surgeon in Wellington. Bob Macrae maintained his enthusiasm for aeroplanes and became an airline pilot. And I, to Miss Junker's astonishment, became a school teacher and a journalist.
But — back to 1945. Bob Macrae and I read voraciously — the Chums and Boys' Own Annuals and the R M Ballantine books we had read in Standard 5 and 6 were beneath us now. I graduated from R L Stevenson to Jules Verne, Mark Twain, Kipling, Dumas, Harrison Ainsworth and, still insatiable, I read the books that Mum and Dad had brought home from the library to read themselves — John Buchan, Denis Wheatley, D K Broster's seventeenth century romances, Georgette Heyer's and Agatha Christie's detective stories, Leslie Charteris' "Saint" books, Ion L Idriess' tales of the Australian outback — and many more. And I swapped books with Bob Macrae, who had similar omnivorous tastes.
The school's annual fancy dress ball was held in the Drill Hall. When I was in Standard 2, or thereabouts, I had dressed up in a traditional Chinese trouser-and-top outfit with a "coolie" hat. I was promptly christened Chung Lung the Chinese Dwarf, which rather dimmed my enthusiasm. But the Fourth Form dance was different — I'd asked Daphne Church to be my partner and I self-consciously squired her round the hall feeling very grown up.
Later in the evening some of the children gave items from the stage. "Skin" Lawry, who fancied herself as a chanteuse, sang "Goodnight, Irene" in a most sultry manner, clutching the microphone like a professional. It was rumoured that she had an American boyfriend, but this is unlikely.
She had a brother, also known as "Skin" Lawry, who was a spiv from an early age. He would sidle up to you in the street and inform you confidentially that he had some money coming to him soon from a source which varied from encounter to encounter, and could he have, say ten shillings, to tide him over.
There was plenty of work for me in the nursery that year. By now I was doing almost everything that Dad was doing — cultivating, sowing, weeding, lining-out, lifting, counting and packing — the lot. I was allowed an occasional turn with the rotary hoe, though I was still too short to manage the heavy machine with ease and too light to turn the engine over the with the kick starter.
The end of the war came almost as an anticlimax. We had jubilantly followed the progress of the Allied and Russian armies as they raced for Berlin, had moments of horror as the V1 and V2 guided missiles hammered London and rejoiced wildly when at last Hitler lay dead in his bunker.
But the long-expected capitulation of Japan brought a more muted response. Mum interpreted the atomic bomb in the American announcement as a "tonic balm". "What's the good of giving them a tonic?" she asked rhetorically. "They ought to shoot the brutes." So much for American English, which she always despised anyway.
That morning Miss Junker came into the classroom and switched the radio on, saying that the Prime Minister had an important announcement to make. He said, as we all knew he would, that the war was over. We just sat and looked at each other, wondering what to say.
Grandad died on August 26, 1945, just one day short of his 84th birthday. I was staying with Gran in Palmerston North at the time, to keep her company while Grandad was in hospital. One morning Gran went out of the room to answer the telephone and came back a minute later to tell me, "Grandad's gone." It took me a few seconds to realise what she meant. It was too hard to believe.
Grandad's death was to have a great effect on our all lives. He left Gorge End equally between his three children — Dad and his twin sister Aunt Mary and my Uncle Eric. Uncle Eric bought Dad's and Aunt Mary's shares of Gorge End and sold his town property to Dad.
Dad sold our old home, with about three acres of land between the house and the street, keeping the forest and the three nursery beds on the forest side of the creek. Then he sold the back part of what had been Uncle Eric's property, keeping only the sunny slope above Scotty Robson's house and the land between that and Huxley Street.
We moved into Scotty Robson's old house, leaving Scotty very bitter at being evicted from the house in which he had lived for nearly 20 years. But Dad had little choice. He needed more land to keep pace with his rapidly increasing production — large areas that could be cultivated mechanically.
And that was the beginning of a new era.
Footnotes
Click the back button on your browser when you've finished reading this footnote.
Lieutenant-General Bernard Freyberg was Commander in Chief of the New Zealand Army in North Africa.