"Davie do A'thing"
And the Remarkable Anderson Family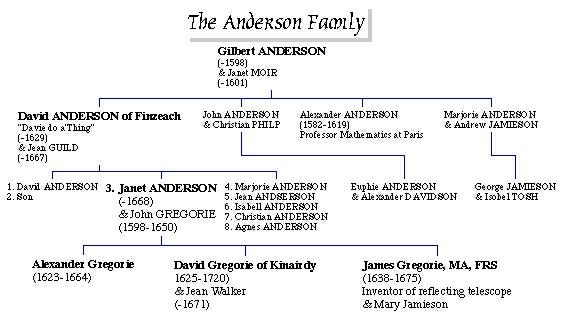 David Anderson, of Finzeach, was a man described as having "a strong turn for the mathematicks and the mechanicks".
He was noted for his practical turn of mind, so good at solving the apparently insoluble that he was nicknamed "Davie do A'thing" (Davie do anything), and he appears to been a sort of unofficial "clerk of works" for the city of Aberdeen.
The city was the main port for the north east of Scotland, but a submerged rock known as Craig Metellan, right in the harbour mouth, posed a hidden menace to shipping. It was invisible in the murky water but close enough to the surface to take the bottom out of any ship that sailed over it when the tide was on the turn.
Anderson put his mind to the problem of Craig Metallan and in 1610 he came up with an ingenious answer. He made a large raft out of empty casks, floated it out over the rock and secured the casks to the rock at low water. Then "when the flowing tide lifted the mass from its bed, he seated himself in one of the barrels, and, with colours flying, sailed up the harbour, amidst the acclamations of the delighted citizens."
No myth, this story comes from "The Book of Bon-Accord", by Joseph Robertson, 1839.
Another of his engineering feats was the designing of a steeple for St Nicholas' Church, Aberdeen, upon which he is said to have personally fixed the weathercock. He also painted several panels on the ceiling of a picture gallery at Cullen House, home of the Earl of Findlater, a relation by marriage.
He came from a family already noted for its academic brilliance. His father's elder brother, Alexander Anderson (1582-1619) was Professor Mathematics at Paris at the beginning of the seventeenth century and a contemporary of the celebrated Scottish mathematician John Napier (1550–1617), who invented logarithms. Alexander Anderson developed the trigonometry of multiple angles and made other mathematical discoveries. He died unmarried.
David's father, Gilbert Anderson (- d.1598) was a burgess of Aberdeen. He married Janet Moir (1576-1601) at Aberdeen and they had at least four children, David (- d.1629), John, Alexander and Marjorie, but not necessarily in that order.
David married Jean Guild (d. 1667), a half-sister of Dr William Guild, Principal of King's College, Aberdeen, and they had seven children, David, a son (died unmarried), Janet, Jean, Isabell, Christian and Agnes (died unmarried).
Janet Anderson married the Rev. John Gregorie, (see The Gregorie Family).
Marjorie Anderson, fourth child of Gilbert Anderson, married Andrew Jamieson, an architect, and their son George Jamieson, an artist famous in his time, married Isobel Tosh.
George and Isobel's daughter Mary Jamieson married Professor James Gregorie, the inventor of the reflecting telescope (see Telescopes, Improving Books & Patent Medicine).
Their great grand-daughter, Helen Burnet, married her cousin Dr James Gregory, third son of James Gregorie, thus adding a third infusion of Anderson blood into the Gregory family.
Isobel Tosh's unusual surname has survived until the present day in Ani Tosh Hennebry, her cousin to a remote degree.