Cardiff
The James Family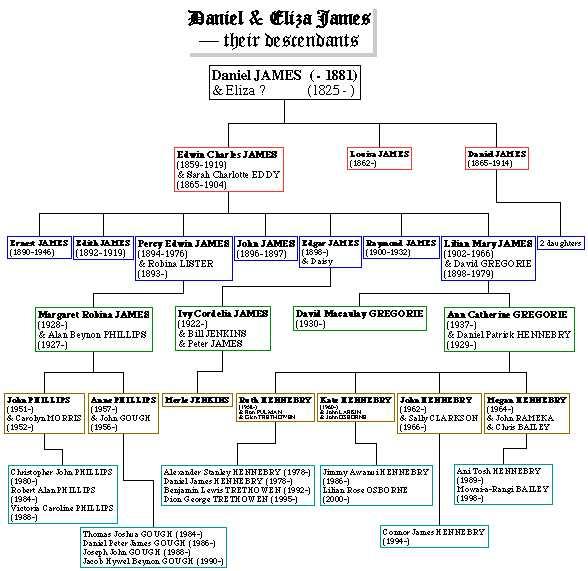 The James family came originally from Newton, Montgomeryshire, Wales.
Daniel James was born in Newton and later moved to Swansea. He married Eliza, surname unknown, who was born at Bristol, England, somewhere around 1825.
The James family moved to Cardiff, where Daniel became a builder. He built all the streets of terrraced houses on the moors behind Cardiff Jail. James Street was named after him.
We have not so far been able to discover the date of Daniel James' death.
Daniel and Eliza James had three children, Edwin Charles (1859-1919), Louisa (b. 1862 -) and Daniel (1856-1914).
The 1881 Census for England and Wales records Eliza James, widow, as living at 5 Sandon Street, Cardiff. A copy of the relevant entry is shown below:
CENSUS
PLACE
ADDRESS
Cardiff
St John
5 Sandon St
SUR-
RELATION-
WHERE
BORN
NAME
FORENAME
SHIP
AGE
OCCUPATION CO
PARISH
James
Eliza
Head (widow)
56
Chapel Keeper
GLS
Bristol
James
Edwin Charles
Son
21
Engine Fitter
GLA
Cardiff
James
Lorna or Louisa
Daughter
19
Employed at home
GLA
Cardiff
James
Daniel
Son
16
Telegraph messenger
GLA
Cardiff
Daniel James, who is listed in the Census Return as a Telegraph messenger, subsequently became a boiler-constructor, travelling throughout South Wales. Edwin's son Perce remembered seeing his uncle pay his men from a capful of sovereigns. He died in 1914, leaving two houses in Kincraig Street, Cardiff, and £5000. His two daughters, both school teachers, lived in a house opposite Roath Park, Cardiff.
Edwin Charles James (1859-1919) served his apprenticeship as an engine fitter at the Mount Stuart Dry Dock, Cardiff. Having qualified for his marine engineer's certificate, which he purchased for the sum of £60, he served as second engineer on the s.s. Carisbrook and the s.s. Usk, his papers being marked on discharge Very Good for Conduct and Very Good for Ability.
He married Sarah Charlotte Eddy of Swansea on 2 May, 1888, at Cardiff. Sarah's father, Robert Eddy, was captain of a sailing vessel which was lost with all hands sailing from Swansea across the Bay of Biscay. Sarah's mother was descended from a family of Scottish crofters who settled in Wales during the Jacobite Rebellion. Her maiden name was Smith.
Edwin and Sarah James had seven children, Ernest Eddy (1890-1946), Edith Sarah (1892-1919), Percy Edwin (1894-1976), John Henry (1896-1897), Edgar William (1898 - ), Raymond John (1900 - 1932) and Lilian Mary (1902 - 1966).
Ernest Eddy James was born on 21 February, 1890. On 5 September, 1914, he enlisted in the Royal West Kent Regiment for service with the British Expeditionary Force in France. He was wounded several times, including a gunshot wounds to both legs and his right hand which cost him a middle finger. In 1917 he was discharged from the Army as being unfit for further war service.
On his return to civilian life, Ernest worked for the South Wales Echo as Circulation Traveller for six years. In March 1924 he left the Echo to visit his sister Lilian in New Zealand. A reference provided by his employers described him as a "smart, intelligent, energetic and trustworthy man."
During his stay in New Zealand, Ernest worked for Fred Gregorie at Gorge End, Pahiatua, where Lilian was employed as a housekeeper by Mrs Gregorie. He returned to the United Kingdom sometime after 1926, when he was mentioned kindly in a letter from Fred Gregorie, then visiting his daughter and grand-daughter in England, to his son Eric, who was managing Gorge End in his absence.
Ernest worked for Gloucestershire Newspapers until December 1931, when he again went to New Zealand to visit Lilian, who was by now married to David Gregorie, eldest son of Fred and Edith Gregorie of Gorge End. David and Lilian were living at the Forest Nursery, Pahiatua, where David had opened a nursery business. Their first child, David Macaulay, had been born on 9 June, 1930, and Ernest was no doubt keen to see his first nephew.
Ernest returned to Wales on s.s. Maunganui in June, 1933, and subsequently worked for Mr H K Wiggins, Dentist, of Pontypridd. The exact nature of his work is not known, but Mr Wiggins' reference, dated 2 June, 1945, states:
Mr E E James was employed by me for over 10 years. During
such period he gave the utmost satisfaction. He had the handling
of large amounts of money and his accounts have always been exact..
He leaves me of his own accord and I am sorry to part with him, who
has proved himself so worthy and exemplary in character and integrity.

Ernest had been called for war service in the Welch Regiment in August, 1939, but was posted to the Army Reserve in February, 1941. As he was free to take up civilian employment he returned to work with Mr Wiggins. He later became Editor of the Pontypridd Observer.
Ernest had had shingles and was blind in one eye. He feared he was losing the sight of the other eye and couldn't contemplate life as a blind man. On 20 September, 1946, he took his own life by jumping into the River Taff in Cardiff. His niece Margaret describes him as a very nice fastidious man, a gentleman, "like my dad."
Edith Sarah James was born at Cardiff in 1892. After her mother's death in June, 1904, at the age of only 38, Edith looked after her father and her young sister Lilian, a huge responsibility for a child of 12. She must have been a devoted sister as Lilian remembered her most fondly in later years. Edith died on 3 March, 1919, and her father followed her to the grave on 14 April, 1919.
Sarah Charlotte James is buried at Cardiff Burial Ground in a plot which Edwin purchased in 1896 for the sum of £1/2/-. Edwin Charles James is buried at Barry Cemetery and Edith Sarah James is buried at Cardiff New Cemetery.
Percy Edwin James, known as Perce, was born on 10 May, 1894. He served with the British Expeditionary Force in France during the First World War and was badly affected by poison gas. After the war he was employed as a striker by the Great Western Railway Company and subsequently by British Rail for the whole of his working life.
On August 23, 1924, he married Hannah Robina Lister, at the Church of St Paul, Barry. Robina's father, Captain John Lister was a master mariner. Her mother, Jane Thomas, of Tal-y-Bont, Llanddetty, Breconshire, was Welsh speaking.
Perce and Robina James had one daughter, Margaret Robina, who was born on 22 June, 1928.
Margaret James went to Romilly Road School, Barry, and then to Barry Girls' County School. When she left school she went into the General Post Office and trained as a postal and telegraph officer, but when the war ended the men came home from the army and wanted their jobs back. Margaret was put into the telephone exchange, but she did not find this as interesting as working on the teleprinters and at the counter. She went to work for Wyn Evans in his pharmacy.
On 29 March, 1948, she married Alan Beynon Phillips, only son of David Beynon Phillips and Ellen Louisa Allen. Alan's father, who spoke Welsh, was born at Barry on 26 September, 1895, and died on 3 October, 1953. His mother was born at Bow, London, on 28 September 1894, and died on 16 November, 1973.
Alan's grandfather, John Phillips, and his grandmother, Margaretta, were both Welsh speaking. They came up from Carmarthen seeking employment when work started on Barry Docks. John got work as a carpenter and and then they bought the dairy in Holton Road. John started carving wood as a hobby which rapidly grew into a business and he worked full-time making and carving furniture while Margaretta managed the dairy. He became a unique craftsman, choosing his own trees at Porthkerry and seasoning the timber himself.
For a number of years, Alan worked with his father as a milk roundsman for John Phillips and Sons, the firm founded by his grandfather, and later as a car salesman in Cardiff. After Alan retired, Margaret worked part-time at Evans' Pharmacy.
Margaret and Alan Phillips have two children, John Beynon (b.16 Feb 1951 - ) and Anne Robina (b. 21 Sep 1957 - ).
John went to Romilly Boys' Comprehensive School and then transferred to Barry Grammar School. He subsequently studied at Bath University and at the Rolls Royce Aero-Engine Works at Bristol for a degree Mechanical Engineering. He worked for Rolls Royce for several years and then for a number of American-based firms.
On 25 September, 1976, John married Irene Mary Carolyn Morris (b. 23 Nov 1952 - ). John and Carolyn Phillips have three children, Christopher John (b. 15 Aug 1980 - ), Robert Alan (b. 8 Mar 1984 - ) and Victoria (Vicki) Caroline (28 Oct 1988 - ). Christopher was accepted by the Royal Air Force when he was 18 and subsequently trained as a pilot.
Anne went to Romilly School until she passed her 11+ and then went to Barry Girls' Grammar. After O-levels, she took a Foundation course at Cardiff Art College, going on to Foldsmiths College in London, where she got her Diploma in Teaching and another qualification so that she can teach craft in wood, metal and plastic. She is a fine horsewoman and keeps a Welsh cob and a pony on the farm where she lives.
She married Dr John Gough (b. 28 Jul 1956 - ) on 8 March, 1980, but they have since separated. Anne has four sons, Thomas Joshua (b. 11 Feb 1984 - ), Daniel Peter James (b. 27 Jun 1986 - ), Joseph John (26 Sep 1988 - ) and Jacob Hywel Beynon (b. 24 Oct 1990 - ).
John Henry James was born in 1896 and died in 1897.
Edgar William James was born in 1898. He and his wife Daisy had one child, Ivy Cordelia (b. 1922 - ). Ivy married, first, Bill Jenkins and had one daughter Merle, and second, Peter James, thus reverting by marriage to her maiden name. Ivy and Peter James had no children.
Raymond John James (1900 - 1932) was born and died at Cardiff. He was unmarried.
Lilian Mary James was born on 4 March, 1902, at Barry. Her mother died when she was only two years old and she was looked after by her elder sister Edith. Lilian went to a primary school in Barry and subsequently to some sort of domestic science establishment in Cardiff where she was trained for domestic service.
When her father and her beloved elder sister both died in 1919, she decided to emigrate. Mr F M Gregorie, of Gorge End, Pahiatua, New Zealand, got Lilian's name from an employment agency in London and arranged for her to come to New Zealand to help Mrs Gregorie look after the homestead at Gorge End. Lilian's eldest brother Ernest joined her in 1924 and also worked at Gorge End for two or three years before returning to Wales.
On 6 June, 1929, Lilian married David George Gregorie (b. 13 March 1898) and they set up house in a tiny one-bedroom cottage David had built at the Forest Nursery, Pahiatua, where he was in business growing forestry trees (see Gorge End, The Forest Nursery, Early Childhood, The War Years and I Remember…). Ernest James visited David and Lilian Gregorie in 1932-33.
David and Lilian Gregorie had three children, David Macaulay (b. 9 June, 1930 - ), Hugh (stillborn, 1933) and Ann Catherine (b. 11 March, 1937 - ).